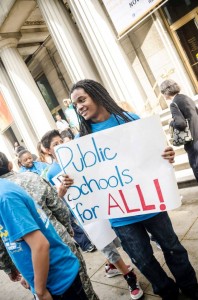 Voices of Youth in Chicago Education (VOYCE) is a youth organizing alliance for education and racial justice led by students of color from  across the city of Chicago and Illinois:
Communities United (Convening organization of VOYCE)
Southwest Organizing Project
Westside Health Authority
Blocks Together
Since its formation in 2007, VOYCE has worked to increase Chicago's graduation rate by using youth-driven research and organizing to advance district-level policies that support student achievement.
VOYCE's work is driven by the belief that young people who are most directly affected by educational inequity are in the best position to develop meaningful, long-lasting solutions. To lay the foundation for VOYCE's campaign, more than a hundred youth conducted an in-depth, year-long Participatory Action Research study on the root causes of the city's 50% graduation rate. The students found that to increase graduation rates, Chicago Public Schools (CPS) must build a foundation for student success through district- and school-level policies and practices that foster trusting and supportive relationships with peers and school staff.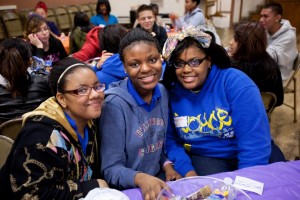 VOYCE's organizing focuses on three priority areas:
Ending the use of harsh discipline policies that push students out of school and into prisons
Implementing the use of restorative discipline practices
Limiting the use of high-stakes testing and creating high-quality learning environments
VOYCE's youth leaders have won significant recognition for their work:
In 2009, VOYCE won the "Organizing Collaborative of the Year" award from the Chicago Community Trust, and the national "Youth Activist Award" from the Schott Foundation.
The Nation magazine recognized VOYCE's work addressing the high dropout and low college enrollment rates in Chicago public schools as one of the Top Ten Youth Activism Victories of 2008 by The Nation.
VOYCE youth leader Stephanie Alvarado was featured in the PBS special "American Graduate," focusing on the difficulties facing Latino students as they successfully navigate the public school system.
VOYCE student representatives were invited to participate in convenings held by the Council of State Governments on the creation of new federal guidelines on school discipline. The guidelines, issued by the U.S. Departments of Justice and Education, urge school districts to move away from exclusionary discipline practices that disproportionately affect students of color. To learn more about the guidelines, click here.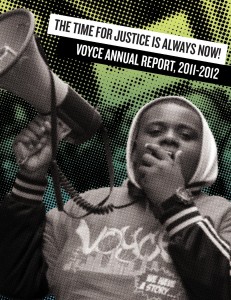 Want to learn more about VOYCE and our past work? Click here for our previous annual report.
To stay up-to-date with our campaigns, check out our Facebook page!