Since student leaders launched VOYCE in 2007, our vision for change has been driven by the belief that those most affected by educational inequities – the students themselves – hold the solutions to creating a high-quality education system. Using innovative, youth-led research, an equity lens and action, VOYCE brings students together from across the city to push for systemic changes that ensure every Chicago student has access to an excellent education.
Ending the use of harsh discipline policies that push students out of school and into prisons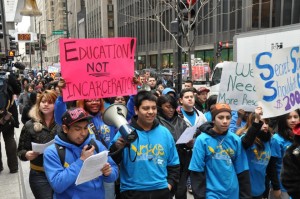 VOYCE is organizing for:
Strong limits on exclusionary discipline practices at all publicly-funded schools;
The creation of a public database on the school-level use of discipline; and
Increased investment in social-emotional supports, high-quality teaching and learning, and other research-based models for preventing and responding to misconduct.
In 2011, VOYCE released an original cost-analysis report "Failed Policies, Broken Futures: The True Cost of Zero Tolerance in Chicago," which found that CPS's overuse of harsh disciplinary measures has cost the city tens of millions of dollars in the short term and hundreds of millions of dollars in the long-term, diverting resources from more effective approaches to school safety. Since then, VOYCE's efforts have resulted in a new Student Code of Conduct that ended two-week out-of-school suspensions for minor offenses, cut maximum suspension time in half and put a stop to arrests for disorderly conduct.
Recently, VOYCE and other key stakeholders across Illinois launched the Campaign for Common Sense Discipline, which seeks to break the barriers created by the use of harsh and exclusionary discipline in all of Illinois' publicly funded schools. Our goal is to support our students' educational achievement and success by shifting resources from exclusionary practices to restorative alternatives. The campaign believes that school districts should invest more in student support and engagement than in metal detectors and security guards. To learn more about the Campaign for Common Sense Discipline, click here.
Implementing the use of restorative discipline practices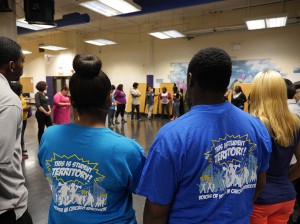 VOYCE is a co-convener of the Safe Schools Consortium (SSC), a unique multi-stakeholder collaborative that is working with four partner schools to achieve reductions in out-of-school suspensions and school-based arrests by implementing restorative justice principals. Other SSC members are Alternatives, Inc. and the Chicago Teachers' Union (CTU) Quest Center. The work of SCC is grounded in the following core principles: (1) restorative practices have the greatest impact if they are part of a whole school approach that is supported by school staff; (2) teachers need ongoing, intentional professional development to consistently implement best practices to limit their disciplinary referrals; (3) structural reforms and ongoing investment from various key stakeholders are necessary for these programs to sustain impact over time; and (4) the intentional development of youth leadership to drive reforms in partnership with their school and communities is an essential ingredient of improving outcomes for youth.
The selected four target schools in distinct Chicago neighborhoods are:
Sullivan High School in Rogers Park
TEAM Englewood High School in Englewood
Frederick Douglass High School in Austin
Bogan Computer Technical High School in Ashburn
Teaching, Not Testing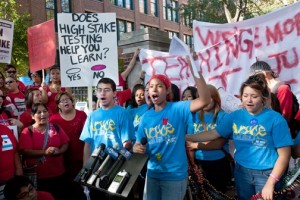 VOYCE students continue to address the issue of the overwhelming number of high-stakes tests administered by CPS, which take away valuable learning time from students. Additionally, the weight of many of these tests creates an incentive for many of our "low performing" students to be pushed out. VOYCE students have held ongoing meetings with CPS officials and have organized citywide actions. As a result, in the summer of 2013, CPS announced the elimination of the fall administration of EPAS (a high school standardized test) for the 2013-2014 school year. CPS subsequently announced the elimination of 15 other standardized tests across the school system. This student-driven effort was a critical step forward in shifting the focus from testing to proven research-based methods that improve the quality of teaching and learning. VOYCE students continue to organize around creating high-quality learning environments and limiting the use of high-stakes testing.